"Yeah, the other challenge is…they can give a small rating, so it affects your account rating, that means it will affect your ability to get jobs."

Mary, Online Freelance Writer

Summary of Findings
Platforms manage and influence information about the quality and credibility of micro-enterprises: formally, through rating systems; semi–formally, through likes and comments; and informally, through in-person communication. Credibility can either elevate or tarnish micro-entrepreneurs' growth across platforms. This section, one of four detailing "platform practices", describes how the 27 micro-entrepreneurs we interviewed manage this new environment for credibility and reputation, highlighting approaches, responses and awareness.
1. Ratings rule the game, especially when it's all you have.
The further micro-entrepreneurs are removed from the ability to physically interact with clients, the more they rely on their platform ratings.
Ratings on e-commerce platforms
Jumia, a B2C e-commerce model, restricts direct communication between buyers and sellers. At no point in the customer journey are merchants able to communicate with their customers, and vice versa. Because of this, buyers rely on the rating system to determine which sellers are credible, and sellers rely on these ratings to complete sales. See image below of an example of the rating system on Jumia Kenya.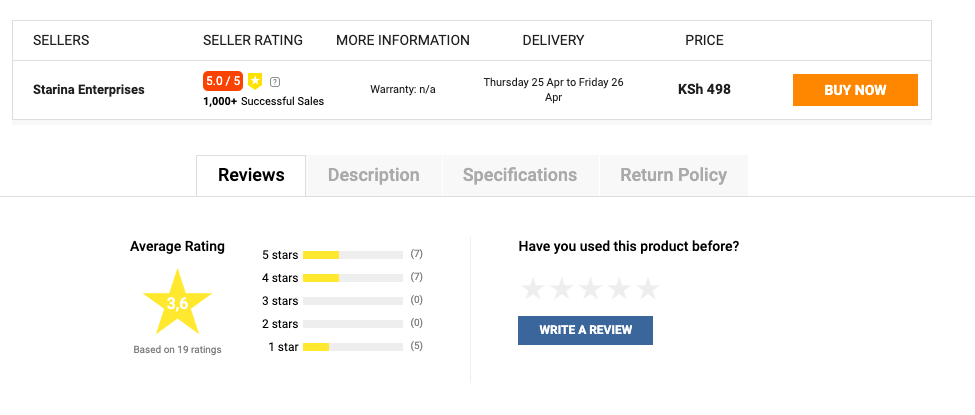 As Robert, who sells phone accessories across Jumia, explained:
"To maintain my seller score, I should deliver the right item at the right time because once the item gets to the customer at the right time you will be very happy and you will give me five stars…so my items will be on the landing page all the time, so I will make sales."
Micro-entrepreneurs understand not only the impact of high ratings, but also low ratings. As Robert told us:
"The impact of the three stars and below…means my item is not correct or it's not delivered. From there I think the item might end up being deleted from the website, so I will end up missing the sales. So I think I should keep an eye on the seller score."
Ratings clearly rule the game for Jumia merchants. As with any successful rating system, higher rated merchants win more work than those with lower ratings. In a bid to support merchants in this environment, Jumia poses strict rules around issues such as packaging or product specifications which, if violated, result in a fine. This encourages Jumia merchants to focus on quality and consistency, and consequently protects their reputation and rating. As Robert shared:
"Sometimes I used to take the correct items but maybe the color is different so once the item is rejected you are charged KES 500 (~$5) from there is when I went back, I settled my mind then from there I started my verification process."
This theme of platforms supporting micro-entrepreneurs is discussed further in our Upskilling section.
While ratings rule the game for Jumia merchants, on OLX, a C2C e-commerce platform, the lack of a rating system is supplemented by the ability to directly communicate with customers. As Kioko, a micro-entrepreneur who sells flash disks, explained:
"I had one customer from Malindi, he saw my [OLX] advert and he called me, but he could not trust me and I could not trust him, so I couldn't send the goods. So, he called and said, 'I have a relative who is in Nairobi' and that I should go and deliver it to his relative. He works at the bus station. So, I went and delivered to the relative, who confirmed after which he sent the money."
Online work ratings
Across online work platforms, ratings, or what Upwork fittingly calls "Job Success Scores", help freelancers win work. With an oversupply of labor on these platforms, ratings help micro-entrepreneurs stand out from the crowd. See image below of how the Upwork "Job Success Score" is calculated.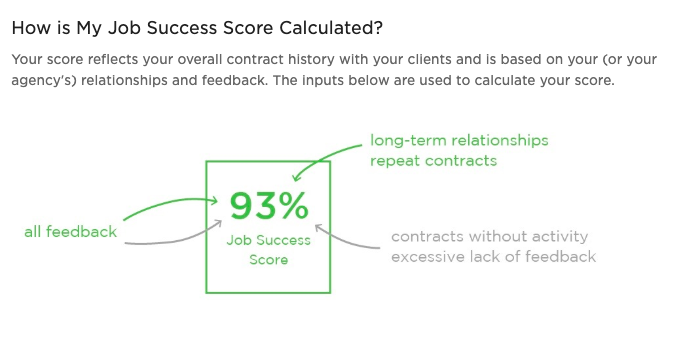 Mary, an online freelance writer, relayed how integral ratings are in the bidding process for the three online work sites she uses (Freelancer.com, Upwork, and Uvocorp):
"For someone who is looking for someone to work for them, they definitely will look for the rating. They won't go for somebody who disappointed their client, so when they see that the clients that you have worked for are happy, you have a higher chance of getting the job."
On the other hand, those who struggle to build a reputable rating suffer. Given the excess supply of labor on these online work platforms, winning jobs and building credibility is a long and arduous process. Kipchoge described the journey to improving his rating on StudyBay:
"For you to move a level, there are several qualifications. In most cases in the beginning you need to at make at least $1500… complete at least 100 orders, and have at least 30 likes… If the client likes you, that is one like less like [needed to move] to the next level."
The challenge of building a solid rating score distinguishes those who flourish across these online work platforms from those who struggle. Credibility on these platforms is governed by two things: your rating and the number of reviews you have. Similar to buying a product on Amazon, both components contribute to a freelancer's credibility: quality of service [ratings] and volume of service/experience [number of reviews].
While Mary has hired four people to help manage her online writing business, Daniel, who does online writing as a digital side hustle, struggles to compete with highly rated, seasoned freelancers:
"Upwork has good pay but the problem is bidding. You can stay for two months without getting a job."
He struggles to compete against those who have both strong ratings and lots of jobs under their belts.
As with e-commerce sites, ratings on online work platforms are particularly important for micro-entrepreneurs unable to interact directly with their clients. On Upwork, as with OLX, the platform enables freelancers and clients to communicate directly with each other. However Uvocorp, like Jumia, acts as an intermediary between writers and clients. As Mary explained :
"On Uvocorp you don't talk to the client…They have like a support system where they get their jobs, they talk to their clients, then they give you the job. Like now they're delegating it to you."
In our Digital Side Hustle section, we further explore the challenges and opportunities of working across these online work platforms.
2. Offline feedback is easier to manage
While some micro-entrepreneurs interact and transact across purely digital platforms, the majority use a blend of online platforms and offline tools in their buying and selling cycles. Many micro-entrepreneurs personally interact with their clients towards the end of the customer journey, either through phone calls or in-person meetings. This face-to-face communication opens the door to offline feedback.
Among our interviews, the general trend was to deal with in-person complaints in real time. Complaints either start and end with an explanation, or they start with an explanation and end with a free service. Faith, a fresh juice seller, was able to address in-person complaints about rising prices by explaining that her ingredient prices had increased. Chepkirui, a hairdresser, and Makena, a tailor, both offer their customers a free service if they are unhappy with the initial outcome of their transaction. Makena is even willing to lose money to maintain a customer, highlighting the value of maintaining one's credibility. She explained that, if a customer is unhappy with her work, she would look for a qualified tailor to remake the garment.
"In business you have to make profit and loss," – Makena
The ability to respond to informal, in-person complaints quickly and efficiently helps maintain trust between buyers and sellers. Before their credibility is tarnished, micro-entrepreneurs are able to explain and rectify an unsatisfactory experience. As Faith shared, responding to these complaints is important because:
"…it will be like yeah this girl can listen to us. We can just talk to her and she can hear our advice."
The fluidity of dealing with offline complaints sits in contrast to the rigidity of documented online feedback.
3. Micro-entrepreneurs react to Facebook feedback in a variety of ways, but they don't seem that worried about it.
While formal online feedback and ratings (through platforms like Jumia and Upwork) is structured, documented, and offline feedback is fluid, undocumented, feedback through social media sits somewhere in between. On Facebook, for example, there are no rules regarding how feedback should be provided. Informally, individuals leverage "Likes" and "Comments" to provide opinions on a product or service. Kioko, a micro-entrepreneur who sells flash disks both online and offline, explains the informality of feedback shared on Facebook:
"Maybe you saw my post on Facebook, then you came and bought my flash disk, so tomorrow, I post another one. So, you come and comment and say I bought this flash disk and it's still good."
While the feedback leads to informal reputations rather than formal ratings, the results are digitally documented. This can have negative and positive knock-on effects, both of which are amplified by the network effects of social media. While positive feedback can help build trust and credibility, negative (at times unjustified) feedback can effectively ruin a micro-entrepreneur's business. Kioko shared his experience with unjustified negative feedback on Facebook:
"I get many such negative comments. Someone has not even bought from you and he just says this is fake."
Beyond Facebook, we saw unjustified feedback affecting micro-entrepreneurs on other, non-social media platforms. Kipn'getich, a taxi driver, explained the spectrum of feedback he receives from riders:
"Sometimes customers are not the same. You may offer customers good service and (they) give you even a one star, and you have offered a service worth five stars."
He specifically argued that customers should have guidelines for rating drivers.
In the absence of a formal rating system or trusted intermediary, micro-entrepreneurs adopt a variety of approaches to manage complaints. Although some understand the importance of addressing negative reviews to maintain their reputations, others focus on removing the evidence. Kioko, when asked how he responds to negative Facebook comments, bluntly told us: "I hide them." Others seem unaware of the impact or significance of such feedback. Both Rehema, a caterer, and Odeke, a water vendor, felt Facebook comments affect their morale more than their sales. Odeke, for instance, is secure in the idea that his online reputation won't translate into his offline work:
"Actually, it would affect my mind but not the business. Nobody knows where the business is."
Micro-entrepreneurs respond to informal, but documented, Facebook feedback in a variety of ways. Either it is ignored, unrecognized, or, we assume (but didn't find any specific evidence of this), addressed directly. However, all in all it is held in less regard than formal online feedback which translates into official "star ratings" and "levels".
4. Some micro-entrepreneurs try to game the system
When ratings rule the game, micro-entrepreneurs will go to any lengths to grow their credibility. This is particularly true across online work platforms. Daniel, a part-time online writer, told us that some freelancers improve their ratings by signing in as clients, posting jobs, then accepting the jobs from their own writing accounts, and issuing a glowing reference (for themselves!) upon completion:
"Kenyans are very crafty, creative and bright. To create a higher level, you log in as a client."
As their ratings grow, some even look to sell these accounts, knowing how hard it is to build credibility. As Daniel told us:
"If the profile goes higher, you sell the account. It's very interesting."
However, credibility isn't just about levels and ratings. Unfortunately, image also matters. One online writer, Kipchoge, uses a picture of a white person as his profile picture on his StudyBay account because "...the clients we are dealing with are usually from the West." More about these practices are discussed in the Digital Side Hustle section.
And this practice of tweaking the rules of the game to increase one's credibility isn't limited to online writing platforms. Odeke ran us through how you "cook" a message on Facebook to give the appearance that you have more customers and a bigger business than you have in reality. While adapting technology to fit one's needs isn't new, it's interesting to see this being applied to credibility and ratings.
5. Micro-entrepreneurs can also rate their customers
While so far this analysis of credibility has focused on how micro-entrepreneurs are rated, ratings go both ways. Uber drivers can rate their passengers, Upwork freelancers can review their clients, and a Facebook seller can post feedback about a buyer. On Jumia, merchants can also rate the platform itself. With Jumia in charge of delivery, a delayed delivery will impact the merchant's seller score. In such an instance the merchant can rate Jumia . Asked about his own ratings of Jumia, Robert told us:
"If I rate, I think the message goes directly to the Managing Director so from there he will be able to get back to the staff and he will ask them why this has not been delivered to the customer at the right time."
It was unclear from our discussion if this rating system had any further purpose or impact.
Kipn'getich, a Taxify taxi driver, also rates his customers. As with his rating, it appears that there is no set criteria for the customer rating process. However, Kipn'getich evaluates his customers by the following criteria: "The approach; how the customer approaches you. How she or he talks. The waiting time," and highlighted that he developed this process himself.

---
Read next: Learning and Literacy ⇢