About Faith
Faith was born in Nakuru but moved to Nairobi to find work. She now sells fresh fruit juice in and around Nairobi.
She started her business in July 2018 when a woman she met told her how she was struggling to find fresh, healthy juice for her children. This woman, Esther, continues to give her advice on how to grow and manage her business. Faith also connects with a business coach she met through Instagram who gives her tips on how to improve her juice business. She's received valuable advice via both online and offline channels.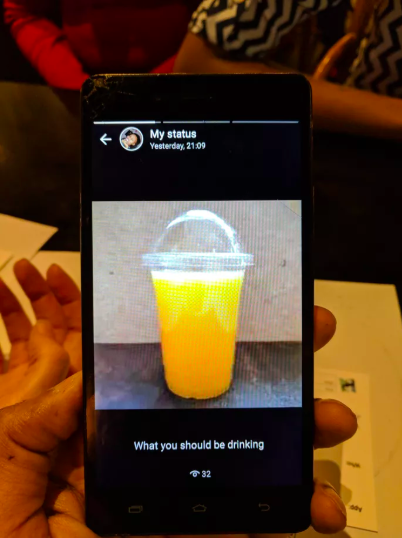 Faith learned to make juice by watching YouTube tutorials. Through YouTube she's also learned how to sell to customers, how to package her juice, and about the importance of keeping a hygienic work environment. From her friend Esther to YouTube, she uses a number of platforms and offline tools to upskill herself.
Each day she promotes her juice through SMS, WhatsApp, and Instagram. She also uses her WhatsApp status as a marketing tool. She rarely uses Facebook for business. She once got a customer through Facebook that she didn't know and was scared to pursue the lead. She feels much more comfortable using WhatsApp, because she knows her Whatsapp customers.
She delivers pre-ordered juice to customers either to their door or to a set location. Any remaining juice she sells by hawking on the street. All of her customers pay her in cash.