About Dorcas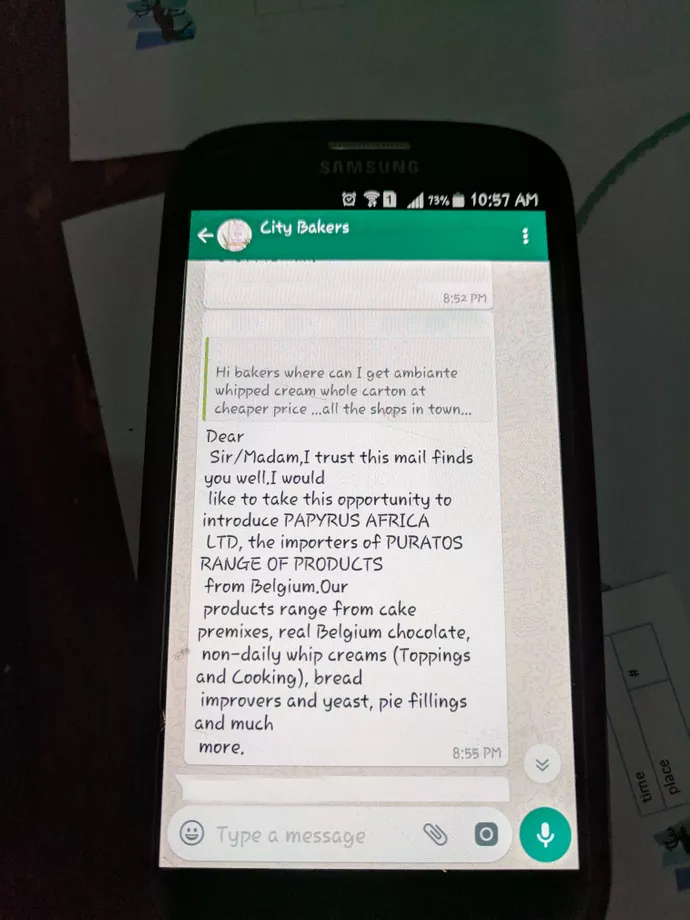 Dorcas is a baker and does online freelance writing in the evening. She used to work in communications and ran her own PR business before, sadly, she developed Lupus. Due to her illness she is homebound and relies on technology to do most of her work.
Dorcas started her baking business—Sweet Purpose Cakes—two years ago and differentiates herself by offering healthy cake options made with less sugar. She uses a number of different apps to market her products and communicate with clients.
She advertises by posting pictures of her cakes on her personal Facebook page. She has a separate page for her business, but few people have joined. She occasionally uses Twitter to run promotions. Most of her conversations with clients start on Facebook messenger and then, once she confirms they are a potential customer, she moves the conversation to WhatsApp. WhatsApp is her primary way of connecting and communicating with customers. She's also a member of a WhatsApp baking group which is used for networking, referrals, and information on where to get ingredients.
She prefers to have deposits paid through M-PESA rather than with cash so that she has a paper trail of her expenses and sales. She relies on delivery apps, such as Uber and Taxify, to deliver her cakes.
Dorcas also uses Pinterest for inspiration and YouTube to learn new techniques on how to bake. She also sometimes pays for online baking tutorials through MasterClass.
In the evenings she logs on to online work platforms such as iWriter and Upwork where she does product reviews, article writing, and surveys. She used to work as a virtual assistant, but now works only as a baker and writer.